Here is some of the gear that we use...
Hunts has put together a sale on equipment that Tom and I use. If you are one of our workshop or class participants or one of our blog readers you can use the coupon codes to save on equipment.
Contact Alan Samiljan
781-462-2374 to order or call the store if you have
any questions. Hunts always works with you for your photographic needs. If any code does not word call Alan and he can fix it and place your order over the phone
Hunts always works with you for your photographic needs.
FYI, we only list items that we personally use and we do not receive any commission on ordered items.
Check out the gear here:
http://lifethrulisaslens.blogspot.com/2014/09/sale-on-photo-equipment-that-we-use.html
http://www.huntsphotoandvideo.com/
Hunts is a great place to buy gear. They will
Contact
Gary Farber
if you are looking for a particular camera, lens, tripod, etc.
We have three tripods. We love all three and use a particular one depending upon the situation:
Travel = Mefoto. Lightest, easiest to travel with.
Tabletop, Lightbox, Flowers, Macro = Manfrotto. Has flexibility and can go horizontal, weight in between the two others
Birds, night photography, long exposures = Gitzo. Heaviest of the three but also the sturdiest. It can handle long lenses and is great for long exposures and night photography.
Per Gary we can offer your students a special price along with free Shipping on the Wacom tablets
Wacom PTH 451 $239.99
Wacom PTH 651 $329.99
Please have your students contact me directly and I will be glad to assist them. Thank you, George
George Trickel
Hunts Photo and Video
Sales and Marketing /Specialty Markets
Benro MEFOTO Travel Tripod / Monopod with Ball Head
This is great for travel, going in to NYC, etc. It folds small and fits into a variety of bags for easy travel and carrying. Personally the smaller, lighter day trip version of this tripod is not sturdy enough for most dSLR cameras, although it is good for a mirrorless or point-n-shoot.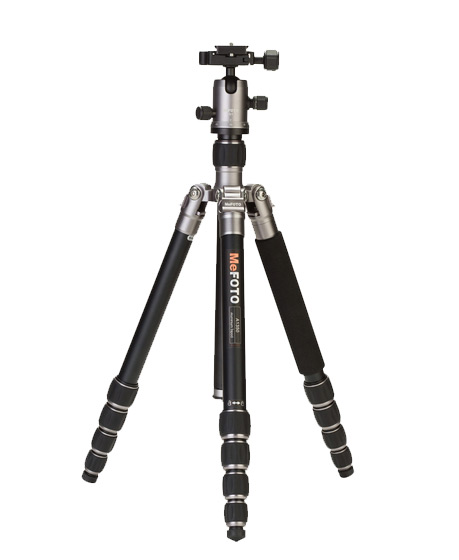 This MEFOTO A1350Q1A Gold Travel Tripod kit is the combination of an A1351A Transfunctional Travel Tripod with reverse folding Twist Lock Metallic Aluminum Legs and a Q1A Double Action Ballhead. Seriously stylish compact support for both compact and full frame cameras.
The tripod legs can be inverted and folded back 180° making it small enough to carry just about anywhere.
Height: 15.4" Folded
61.6" Extended
64.0" Monopod
Weight

2.6 lb (1.2 kg) including head
Load Capacity

8.8 lb (4.0 kg)
Gitzo Systematic Series 3 Carbon Fiber 3-Section Long Tripod
Our daily use tripod. This is great for HDR, night, Macro, long exposures, long lenses, etc.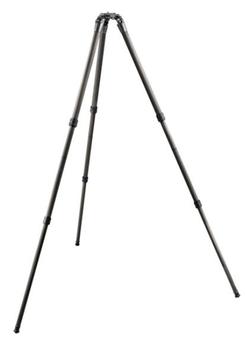 Maximum Height
4.9' (1.5 m)
Minimum Height
4.1" (10.3 cm)
Folded Length
2.2' (68.3 cm)
Load Capacity
55 lb (25 kg)
Leg Sections
3
Leg Lock Type
Twist, Gravity Lock
Independent Leg Spread
Yes, with leg angle settings
Center Column Sections
None
Head Type
Safe-Lock polymer disc with locking screw
Head Mount Thread Size
3/8" - 16
Operating Level
Eye level
Weight
4.4 lb (2.0 kg)
This the my third tripod. I use it for tabletop, lightbox and macro photography.
Manfrotto 190 Magfiber 4-Section Tripod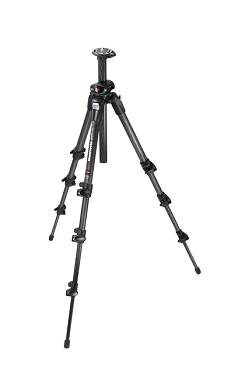 Q90° quick center column system.
This model includes the patented Q90° system. This ingenious system allows the user to move the central column from vertical to horizontal position in just seconds without having to disassemble the column.
Closed length: 19.7 in
Minimum height: 3.1 in
Maximum height: 57.5 in
Maximum height (with center column down): 48 in
Weight: 3.0 lbs
Load capacity: 11 lbs
FYI I heard that this model is being phased out and replaced with this model
Acratech GV2 Ballhead
This is an awesome ballhead, lightweight and study. It can act as a gimbal too. Can be used with lenses like the 300mm f2.8 or 400 mm. Have a longer lens? Then use a Wimberly.
Weighs less than 1 lb (.45kg) with quick release clamp.
Easily holds over 25 lbs (11.4kg) at any angle.
Full movements allow any camera position.

Compatible with Kirk, Arca, R.R.S., and many other QR plates.
and
Induro BHL3 Low Profile Ball Head (Supports 88 lbs)


Induro BHL low profile ballheads provide support with exceptionally high load capacities. Oversized head lock knob with unique integrated lock limiter tension control, independent panning action lock and much more. Features an Arca-Swiss style quick release system with double safety lock and built-in bubble level for maximum flexibility.


SKU: #479023


Kirk Enterprises BL-7D L-Bracket for Canon EOS 7D Body
L bracket for other cameras
I consider an L bracket a MUST for serious photographers.
This Kirk L-Bracket for Canon EOS 7D is a right-angle, quick-release bracket that fits on the base of the EOS 7D, allowing you to quickly move from vertical to horizontal format without moving your tripod head or changing your position.
It allows you to keep the weight of your camera over the center of the tripod, rather than pulling it off to one side if you use a standard plate and a ballhead or tripod head. It also is great when going from horizontal to vertical and back because you do not need to reposition your composition.
Gisteq Flashmate LED Video Light
We use this light ALL the time!
I consider it a staple that everyone should have in their camera bag.
This model is the best, it has a dial that controls the amount of light. It has another dial that controls the temperature of the light. It is easy to use, gives off even light edge-to-edge, can be mounted to a lightstand or gorilla pod if desired, uses AA batteries and is very controllable/customizable as to light output.
Gisteg Flashmate II - $15 off
We use it to light up a person (like our model at Grand Central Terminal), we use it for flowers and macoo work, we use it to light the top of subjects on our lightbox, we use it for inside in dark abandoned buildings, like inside the Lonaconing Silk Mill -- it is an awesome light!! Again, I consider it a staple that everyone should have in their camera bag.
Click here to purchase
Gisteq Flashmate LED Video Light
High quality 198 soft-light LED light bulbs/
Dual-Color temperature bulbs design
Color temperatures adjustment function
Brightness control adjustment wheel
Special Appearance design
Battery power indicator
Eco-friendly & power saving
Multiple battery options
16:9 widescreen design
Expandable up to 9 LED panels
GiSTEQ Flashmate LED video light is the perfect continuous lighting solution for your HDSLR or video cameras. It uses the latest LED "Matrix Lighting" technology that gives you the best lighting possible. With great color, warm & soft lighting, it enhances your subject matter. It's nearly heat-free, giving you the perfect cool & comfortable shooting experience.It's also compact and light weight. The Brightness can be adjusted to your liking, and output is flicker-free, ideal for video subject's use. Its eco-friendly nature saves power and lasts longer. GiSTEQ Flashmate LED video light is the best tool for your video and camera lighting needs.
Extension tubes, a must for macro photographers. Use these on your 70-200 to allow closer focusing. Keep one in your vest when photographing
10% off Interfit 24-inch Cool-Light Pop Up Tent Kit with 2 Flourescent Lights
or use coupon code: 3aUdJ







Product Description:

The Tiffen Variable ND filter is a versatile and flexible tool, affording you the convenience of using several Neutral Density filters all in one. Primarily used as a photographic tool for controlling depth of field and exposure, the Variable ND is being sought in the video market as well because it is fast, easy to use, small, lightweight, and does not require additional accessories such as a matte box. Currently available in 77mm only.

Provides 2 to 8 stops of light control
Thin profile ring .9mm
Wider outer optic to help reduce vignetting at wide angles
Comes in Tiffen Professional packaging with padded black nylon pouch
Made in the US with high quality optical glass using Tiffen's ColorCore Technology
Tiffen 10-Year Warranty
Phottix 3-Ring Auto-Focus AF Macro Extension Tube (Canon Mount)
other mounts available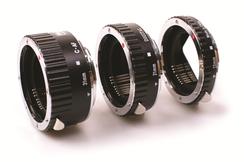 Get up close and personal with your subjects with a Phottix 3 Ring Auto-Focus AF Macro Extension Tube for Canon EF lens mount.
Access Auto-focus and Aperture controls on attached lenses.
13mm, 21mm, 31mm rings included.
What do the different sizes of tubes do™
The following formula to calculate the magnification from specific extension tube sizes:
Magnification = Extension Tube Length / Lens Focal Length
Example: using a 31mm extension tube between a 50mm lens and a camera body would result in magnification of 0.62x (31 mm / 50 mm).
Using all three with a 50 mm lens would give you a magnification factor of 1.28x (64 mm / 50 mm). That's close. Past 1x and you find yourself in a strange, almost alien, world of details.
Kenko Auto Macro Extension Tube Set for Canon AF Lenses
other mounts available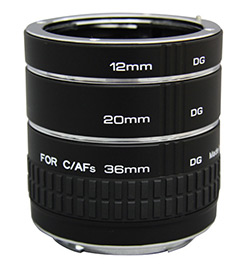 We have one set of each, Kenko and Phottix.
Extension tubes are designed to enable a lens to focus closer than its normal set minimum focusing distance. Getting closer has the effect of magnifying your subject (making it appear larger in the viewfinder and in your pictures). They are exceptionally useful for macro photography, enabling you to convert almost any lens into a macro lens at a fraction of the cost while maintaining its original optical quality.
The DG extension tubes have no optics. They are mounted in between the camera body and lens to create more distance between the lens and film plane. By moving the lens further away from the film or CCD sensor in the camera, the lens is forced to focus much closer than normal. The greater the length of the extension tube, the closer the lens can focus.
We use our light tents all the time!
Interfit 24-inch Cool-Light Pop Up Tent Kit with 2 Fluorescent Lights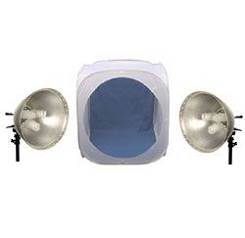 24" x 24" Pop up Light Tent
The easy way to control both Shadows and reflections. The tent is supplied with a blue background cloth which is held in place by Velcro strips to facilitate easy removal or changing of the background.
A removable front panel allows for further control of reflections w hen photographing reflective subjects. The tent collapses down to fit into the circular zipped bag supplied. Folds to 11"
Kit Contains
2 x INT103 Flourescent (Daylight Tube) heads
2 x COR750 Air damped stands
1 x 24" Light tent
The Fluorescent Light Box Tent Kits use Smith-Victor's new line of FL3 Fluorescent lights that are very economical to operate. The FL-3 uses "flicker free" compact fluorescent bulbs with true "daylight" color temperatures (5500K). The bulbs have a life of approximately 10,000 hours and produce virtually no heat. Excellent for shooting food, plants, animals, scientific and medical applications.
Kit Includes:
2 DigiLight FL-3 Fluorescent Lights
6 26-Watt Fluorescent Lamps
2 Raven RS8 8' Black Aluminum Light Stands
1 28" Light Box Shooting Tent
1 Imaging with Light Guide
If you can afford the three light version of this kit it does have advantages, especially for high key.
Tamrac ZipShot Mini Ultra-Light Tripod
Very useful for positioning the Gisteq light (or a flash)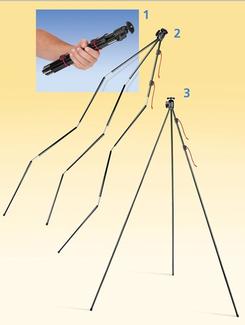 Ultra-lightweight. Weights only 11 oz. (312g).
Ultra-compact. Only 15" (38cm) when folded.
Convenient. Stands 44" (112cm) tall.
Quick. Tripod legs spring open in seconds.
Easy to Carry. Attaches to camera bags and luggage.
Sturdy. Heavy-duty, metal ball-head with strong aluminum legs.
Max Weight Load. 3 lbs (1361g).
There are many situations when a tripod is needed to capture a great shot: The fleeting photo opportunity of the perfect sunset, the hummingbird that hovers for just a few moments, or the family photo with everyone in it.
The problem is that most tripods are heavy, difficult to carry and slow to set up which causes many missed photo opportunities. The ZipShot™ tripod is the answer. Just release the two red shock cords and the legs of the ZipShot™ spring open in seconds to a height of 44" (112cm).
Attach your camera and you're ready to shoot. At only 11 oz. (312g) and 15" (38cm) when folded, the ZipShot™ is ultra-lightweight and ultra-compact. Constructed of sturdy, high quality aluminum with a heavy-duty, metal ball-head, it will hold a DSLR camera and lens up to 3 lbs. (1361g) and all point-and-shoot cameras. A single release lever allows the camera to be positioned at any angle so vertical and horizontal shots are easy.
With the ZipShot™, you can capture the great shots you've been missing.
Flashlights for night photography and light painting.
We love night photography and have purchased a plethora of flashlights, some are great and some not so great. Here are our favorites, and with an explanation of which we use under what conditions.
Do not use a white light flashlight at night for routine work, you will be blinded and have no night vision. We went to a recent night photo workshop and people had all kinds of bright white lights, and head lamps, they had no night vision and when they looked at someone they became blinded too.
This is the red flashlight for seeing in the dark. red preserves your night vision and allows you to see camera dials, etc.
This one is best for light painting (and it has red and Blue filters for fun color effects)
This one is good for painting things far away, like lighthouses and rocks. We find it too bright and it has a hot spot when you are close, but it is perfect for things further away. For things closer better to spend more time with a dimmer more even flashlight like the one above.
A headlamp is wonderful to have. It is great for hands free walking at night. preserves night vision. Do not use when photographing, as light will leak in thru viewfinder,etc. if you are standing behind your camera.
This last one has its own tripod, so it is great when you are on a dark night and need to focus. Turn it on, use auto focus, switch focus to manual focus and turn off flashlight.